Is the Order a Rabbit?: 1x3
Do You Remember the First Day You Got Drunk? You Tried to Light a Campfire in Your Own Home, Didn't You?
Cocoa, Chino, and Rize go shopping for some mugs for the café, where they meet Rize's underclassman, Sharo Kirima, who is in love with Rize. The next day, Chiya, whose coffee shop is right next to Sharo's house, becomes worried that Sharo may be working at a shady place and asks Cocoa and the others to investigate, finding it just to be a simple café, Fleur de Lapin, where they try out some herbal teas. Later, Sharo comes by the Rabbit House, becoming hyper after drinking some coffee, with everyone deciding to have a sleepover due to the rain, where Chiya scares everyone with her ghost stories.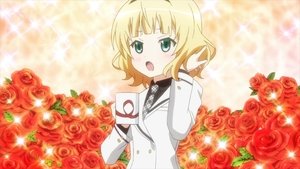 Apr. 24, 2014